CENTER FOR AFRICA MISSIONS
Welcome to our missions! We have many options at CFAM for hosting your mission trip to Africa. Traditionally missionaries come in small groups for 1-2 weeks sometimes more to stay with us here in Ghana. I and my team here will assist you with everything so relax and let us do the hard work. We will pick you up outside the Accra, Ghana airport once you arrive and drive you to Keta, Ghana to the headquarters of CFAM. There you will have meals, housing, and all of the basic necessities.
There will be several excursions to local towns and distant remote villages while you are here with us. Depending on the length of stay you can possibly be able to visit many places. Our primary goal is reaching these areas with the Word of the gospel, sharing our love, and helping in anyway we can. Sometimes we will be getting acquainted with the people and other times helping with some of the construction of new schools, water wells, and more.
You will find time to relax and soak in the environment while here. There will be time to go into the city of Accra to pick up souvenirs before you head back to the airport. Let me know if there are certain request you might have, any concerns or questions as well. We are here for you to make this one of your best trips to Africa!
Once you have felt the call on your heart to join us please feel free to reply to us in the contact form on this page. Then we will send you all the information on approximate costs for your stay. Depending on the time of the year and various factors like group size, etc. the airline ticket can be significantly reduced. This is the biggest factor for the cost of the trip. Meals, lodging & transportation is very affordable.
We hope to talk to you soon! God bless you.
Pastors Paul & Angela Doe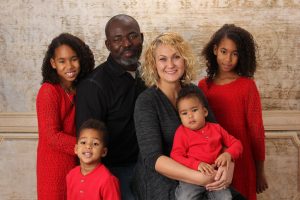 Pastor Paul and Angie Doe with Family
Founded by Pastors Paul & Angela Doe in 2012 Center For Africa Missions is a nonprofit organization that provides food, clothing, education and the gospel to the country of Ghana.
Focusing primarily on indigenous African villages, poor and deprived communities where the message of hope is needed most. In these communities we bring the gospel and acts of kindness to ensure total transformation of hearts and lives.
Our general headquarters is based in Keta, Ghana. Please feel free to contact us by email, phone or stop by when your in town.